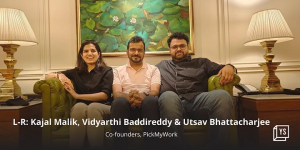 Kajal Malik, Vidyarthi Badireddy, and Utsav Bhattacharjee were running their first company, Gurugram-based campus placement startup Reculta, when they identified that internet companies struggled to acquire customers and scale up despite developing quality products.
"The two channels available to them do not function properly. Online channels are expensive and do not result in transactional users. Managing in-house feet-on-the-street sales teams to sell the product to end users is a major hassle. It is costlier, takes time to build, and is definitely not built for hyperscaling," Vidyarthi sa
ys.
Running Reculta also revealed that the aspirations of young graduates from Tier II and Tier III colleges were not being met adequately by the limited employment opportunities. This translated into an opportunity to present alternate and additional earning opportunities for ambitious, underemployed youth across India.
"It was around this time that the fintech and consumer internet revolution, powered by the trifecta of inexpensive smartphones, cheaper internet, and UPI/wallets, was spreading beyond metros. This translated into a massive demand from internet companies to scale up in Tier II, Tier III, and Tier IV locations, faster than ever before. This needed newer models of sales and distribution; the kind of model that PickMyWork was ready with," says Vidyarthi, Co-founder and CEO.
Fou
nded in 2019, PickMyWork operates a network of gig workers to help digital companies distribute and sell their products at a very low customer acquisition cost (CAC).
The startup uses technology to source, train, and manage agents, after which it presents tasks from internet companies as gig earning opportunities to underemployed youth.
Helping with customer acquisition, sales process outsourcing, and audits helps companies scale up faster.
The gig employment startup claims to have had a "phenomenal" start, signing its first client, OkCredit, after its mobile application was launched on Play Store in January 2020. It has worked with 22 clients to date, assisting them in acquiring 400,000 end customers, with work completed by one lakh registered agents.
Earlier, it worked on experimental projects for Swiggy and on generating leads and hiring for Dunzo and Whitehat Jr via the PickMyWork app. The startup also helped 1mg with new user acquisition and orders from first-time users.